The Service Made Simple End-to-End-Framework
Service Made Simple offers a whole solution for your organization. A complete, comprehensive Service Framework toolset that offers rapid impact.
The Service Made Simple Product Suite contains everything an organization needs to
Develop a Service delivery strategy
Create a customer focus
Develop and deliver services
Measure and manage service development and post-deployment performance
But do you need everything? Your choice.
Whether you are looking to start just with Got Service?, our Service Maturity Assessment or want to stand up an entire integrated framework from Service Portfolio Management all the way through to Service Performance Management, which include integrated components for capabilities such as Dev Ops and Adoption throughout.
A unique combination of Best Practices coupled with innovation.
The Service Made Simple Products offer an out-of-the-box, customizable combination of best practices such as ITIL "Lite" and Lean Six Sigma and decades of practical consulting experience. Combined in an innovative way for you to roll out selected tools where you can make things better quickly, beginning a rapid start to your organization's transformation. When you are ready to phase in the additional tools it will require only limited additional training other than customizing to meet your needs.
Our Product Suite is designed to help build relationships that succeed between Business, IT and Operations. We do this by helping IT Leaders launch the development of a Service Architecture framework and a supporting Service Development Lifecycle within their organizations.
Overview of the Service Made Simple Framework Capabilities
The Service Made Simple Product Suite framework integrates ten operational capabilities across the Service Quick Start Toolkits
Service Portfolio Management to achieve customer needs, business objectives and SPM strategy including service catalog design
Training requirements, design, development, deployment, and performance measurements
Help desk procedure requirements, design, development, deployment, and performance measurements
Customer/user experience requirements, design, development, deployment, and customer satisfaction measurements
Service cost model and pricing requirements, design, development, deployment, and cost recovery measurements
Service marketing requirements, design, development, deployment, customer satisfaction and performance measurements
Technology and automation requirements, design, development, deployment, and performance measurements
Service development quality and service performance (SLAs, OLAs, KPIs) requirements, design, development, deployment, and performance measurements
Development / operations requirements, design, development, deployment, coordination and performance measurements
Infrastructure and Enterprise Architecture requirements, design, development, deployment, and performance measurements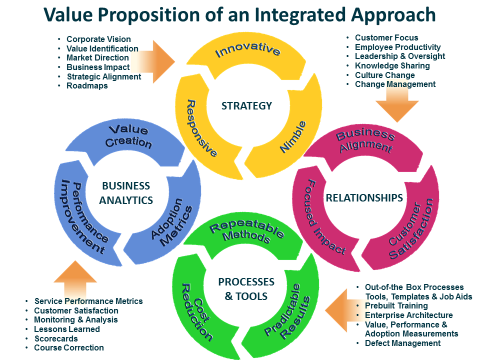 Their process work, methods, procedures and flows are rock solid and provide the change foundation we need. Strong Change Management expertise means that all materials are being used. The consulting team was assembled quickly and staffed with top consultants with key competencies.

IaaS Director
This product helps resolve issues and increases communication between product development and the customer.

Sr. IT Software Director
I buy the tool (ServiceNow), collect analytics, and the Service Made Simple team can use their tools to tell me what to do with the data and how to fix any problems with adoption that come up.

Infrastructure VP
The Service Made Simple Team really know their stuff! (Service Delivery)

Software Development Director
I like that your methods are Enabling where we pick what we want. Tired of being forced to use what they (Big SI's) want us to use.

Program Delivery Manager