Achieve more revenue from each and every ServiceNow sale at no additional cost
🠊 Has your sales pipeline been impacted by clients backing out or pushing back purchase and implementations because of the virus?
🠊 Are you looking for creative solutions to drive additional revenue to each sales cycle without accruing additional expense?
🠊 Are you having to evaluate furloughing your team members yet be prepared to deliver when the market comes back?
🠊 Partners are focusing on expanding their marketshare, are you looking for ways to hold onto your current clients with compelling messages or offerings?
🠊 With over 300 partners in the US alone, what are you doing to drive ServiceNow salesreps for their allegiance to you as their favorite partner?
🠊 Can you provide the necessary sales support for strategic solutioning and process consulting to round out your ServiceNow delivery teams?
Your browser does not support the video tag.

I had no idea. I knew you would be good, but you're Rock Stars!
– VP of Elite Partner Sales
The minute your client opens their door you are competing against all partner stories – we can help build yours.
Service Made Simple brings to you our:
23 out-of-the-box proprietary process toolkits to rapidly deliver "best fit" processes
Turn key offerings and on-demand Function and Process ThoughtLeader consultant team that utilize your own sales team to generate more revenue
Proven Adoption and Value Approach to drive customer satisfaction and maturity, increasing your opportunity to sell additional modules
New marketing stories and messages to stay in front of mind of your customers
Multiple ways to increase revenue such as pre-packaged Gap Assessments, Culture alignment, Maturity Evaluations, IT Enterprise Strategy, Priorities and Roadmaps
We work closely with your sales and delivery team to create, market and close high value solutions for any identified opportunity. We provide everything from functional sales decks, marketing messages, white papers through to SOW's in your format. We collaborate with you and your client seamlessly during the implementations to provide efficient delivery.
To hear more on becoming a Strategic Service Made Simple Partner… Click Here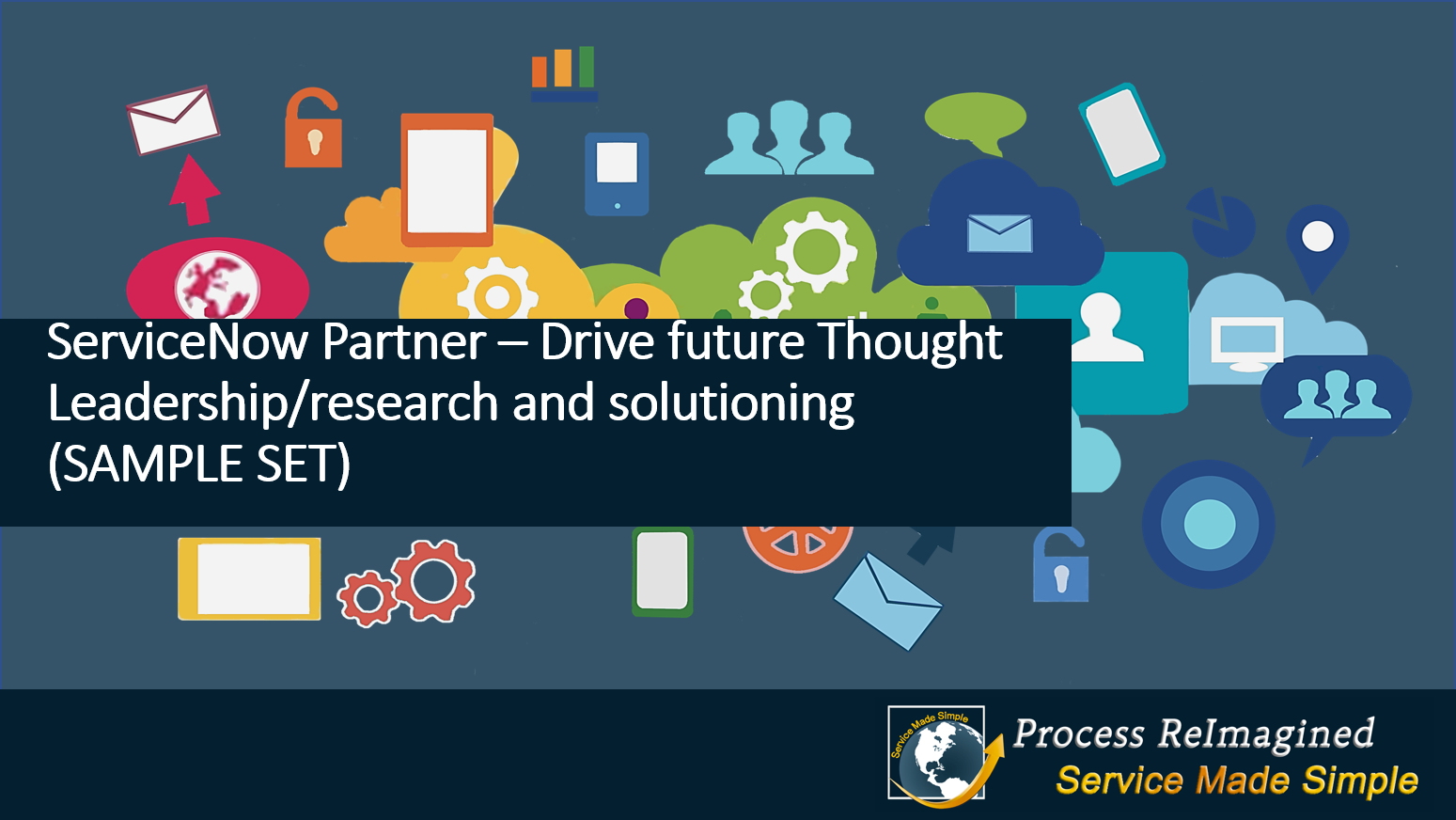 I want to hear about Achieving more revenue from each and every ServiceNow sale at no additional cost